small wood pellet mill equipment
Wood pellets have now been the replacement of traditional fuels for heating or cooking in many areas. Many large scale complete wood pellet plants are established to make wood pellets for sale. But more families and farms show great interest in making their own wood pellets fuel.
For making wood pellets, you need a small wood pellet mill. The small wood pellet mill equipment is used to extrude pellets from wood powder.
Why do we need small wood pellet mill?
The small wood pellet mill equipment for sale needs much less investment. The smallest model only costs several hundred dollars, even cheaper than a set of mobile-phone or laptop, which means it is affordable for most families! As long as you have abundant raw material, you only need to pay for the machine and power cost, and you will save all fuel cost in the following years!
It has high flexibility. Usually the small wood pellet mill has 4 wheels to enable it easily movable to anywhere you want. It also has compact size to not occupying too much space. You do not have to keep it operating until your wood pellets fuel runs out.
It can process various kinds of wood materials. This wood pellet extruder is able to process softwood as spruce, pine, larch, etc. and hardwoods as birch, aspen, alder, lime, and so on.
How to choose the best wood pellet extruder?
There is no such thing as the
BEST
wood pellet extruder, only the most
SUITABLE
! On the Internet, there are too many dazzling kinds of small wood pellet equipments for sale. How to pick out the most suitable wood pellet extruder?
See the supplier's professionalism. Professional manufacturer can answer all your questions, and provide you the most suitable design.
See the wood pellet equipments. See the machine body, spare parts and all details.
See the after-sale service. Professional manufacturer are able to solve all your problems and give you guidance on machine operation and maintenance.
GEMCO, as an experienced wood pellet mill manufacturer, has developed the dies (plates) for all kinds of biomass materials, which means for one specific material, we select the ideal die holes to make sure the best output of pellets. No matter what question you have or what problem you meet, we are able to resolve.
So, we await you to contact us at anytime!
By Shirley Wang
Your privacy is safe with us. We hate spam as much as you do.
Related Equipment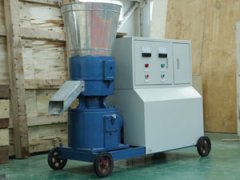 wood pellet equipment
Wood pellet equipment is a core part for wood pell...
Products list
Latest News
Recommend Products