alfalfa pellet mill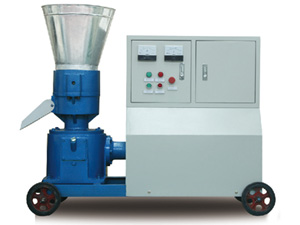 ZLSP300C alfalfa pellet mill
Alfalfa pellet mill is a kind of pellet mill specially designed for making alfalfa pellets. Usually alfalfa pellets are used as cattle feed or fertilizer. But it has been widely recognized that they can also be used as fuel pellets for burning.
Why choose alfalfa?
Alfalfa is a kind of common seen plant, which can be seen almost everywhere in parks, lawns, or fields. It has a fast growth speed and can easily adapt to the environment. Therefore, its yield is very high. When used as animal feed, it can contribute a lot of nutrition.
When used as fuel, it should be dried, since wet alfalfa doesn't burn well and fully.

| | |
| --- | --- |
| | |
| Alfalfa plants | Alfalfa pellets |

As alfalfa is made into pellets, it is a good fuel source. It can be fully burned, releasing less smoke and leaving less ash.
The most important is that, you can make alfalfa pellets all the year round as long as you have stored enough dry alfalfa!
Alfalfa pellet mill
To make alfalfa pellets, you need a set of alfalfa pellet mill. We have the following models for your reference.
Diesel engine alfalfa pellet mill
Model Number
Power(Hp)
Output(kg/h)
N.W./G.W.(kg)
Packing Size(mm)
ZLSP150A
8
50-100
180/220
1000*500*750
ZLSP200A
15
80-120
210/240
1460*750*900
ZLSP230A
22
120-200
280/310
1560*850*1000
ZLSP260A
30
160-250
330/360
1200*500*1070
ZLSP300A
55
250-400
410/450
1220*600*1000
Electric motor alfalfa pellet making machine
Model Number
Power(kw)
Output(kg/h)
N.W./G.W.(kg)
Package Size(mm)
ZLSP 150C
3phase, 5.5
60-110
105/125
1000*480*780
ZLSP200C
3phase, 7.5
80-120
210/230
1050*550*830
ZLSP230C
3phase, 11
120-200
290/320
1200*560*950
ZLSP260C
3phase, 15
160-250
340/370
1240*580*1000
ZLSP300C
3phase, 22
250-400
425/465
1300*620*1100
How to choose the most suitable alfalfa pellet mill for sale?
First of all, see what hourly output of the machine you need, or how much alfalfa you can get per day.
Then, see if your raw material is wet or dry alfalfa. If it is wet, you need to dry it to a moisture content of around 15% with a dryer or by air. If it is dry, just simple add some water when making pellets.
After that, you need to process the alfalfa into power, so that it can be pelletized. This could be realized by a set of hammer mill or crusher.
Finally, use the alfalfa pellet mill. All you need to do is follow the Instruction Manual.
Choose the most reliable alfalfa pellet mill manufacturer
There have been thousands of alfalfa pellet mill suppliers in the market, and a part of them are manufacturers. Then how to choose the most reliable one? See their qualifications, services and professionalism.
GEMCO, as one of the leading alfalfa pellet mill manufacturers, have over 10 years experience in researching and developing all kinds of pellet mills. We also have the most professional and dedicated service team offering you timely help 24 hours a day.
Choose GEMCO, you choose professionalism.
Your privacy is safe with us. We hate spam as much as you do.
Related Equipment
Products list
Latest News
Recommend Products