PTO pellet mill
Compared to pellet mill running by motor or diesel engine, PTO pellet mill is designed to be driven by a PTO (Power Take Off) from a tractor. This kind of machine comes with the jack shaft and is jointed with a different spline coupling in order to connect to the tractor or truck. Our PTO pellet mill is designed to be connected and disconnected easily. And PTO allows implements to draw energy from the tractor's energy. Pellet mill with the PTO installed the tractor makes bedding or wood pellets fuel to burn in pellet stove.
Advantages of PTO wood pellet mill
High efficiency and output with low energy consumption: trough its reasonable and professional design, the machine feeds and press evenly, and discharges pellets with low damage.
The pellets it produces are smooth and even, of high standard hardness and heat value.
Movable machine with tractor, easy and convenient to use
Stronger and durable spare parts, such as that the roller is made by high grad complex alloy steel
Various kinds of pore diameter flat die to choose.
| | |
| --- | --- |
| | |
| PTO Pellet Mill for Home Use | Rolle&Die |
| | |
| PTO Shaft | PTO Pellet Mill |
Run This Pellet Mill With PTO From Your Tractor To Make Biomass Wood Pellets
.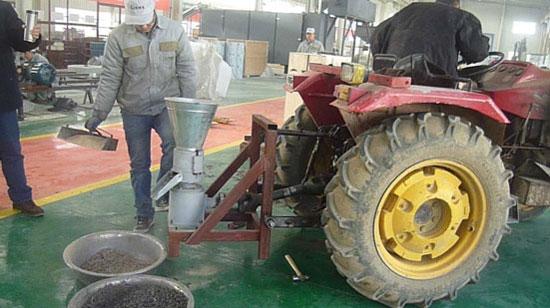 Main Technical Data:
Model
Power
Capacity
Weight(NW/GW)
Packing Size
ZLSP120P
≥8 HP
40-80 kg/h
80/100 kg
900*540*900mm
90-180 lbs/h
175/220 lbs
35*21*35inch
ZLSP150P
≥8 HP
50-100 kg/h
90/110 kg
900*540*1020mm
110-220lbs/h
200/245 lbs
35*21*40inch
ZLSP200P
≥15HP
80-120 kg/h
130/150 kg
1000*540*1020mm
180-265lbs/h
290/330 lbs
39*21*40inch
ZLSP230P
≥22HP
120-200kg/h
175/200 kg
1000*540*1020mm
245-440lbs/h
385/440 lbs
39*21*40inch
ZLSP260P
≥30HP
160-250kg/h
235/260 kg
1050*540*900mm
350-550lbs/h
518/580 lbs
41*21*35inch
ZLSP300P
≥55HP
250-400kg/h
305/330 kg
1100*540*1000mm
550-880lbs/h
680/730 lbs
43*21*39inch
PTO pellet mill is especially appropriate to work on farms. You can add it to a tractor for driving power. This will solve problems of electricity transimission. Even remote-controlled operation is available.
The Video Of Making Wood Pellets With The PTO Pellet Mill Adapted To A Tractor
Your privacy is safe with us. We hate spam as much as you do.
Related Equipment
Products list
Latest News
Recommend Products