Make biomass pellets at home
If you are thinking of making pellets at home, then a set of
biomass pellet making machine
is a must.
Biomass pellet making machine is used to make pellets from biomass materials like wood, sawdust, straw, stalk, sunflower husk, peanut shell, and many others. Previously, biomass pellets are mainly produces by factories or plants. In recent years, with the decreasing small biomass pellet making machine price, it has become the primary choice for many home users.
Process of making biomass pellets
For using the small biomass pellet making machine, first you should make sure the raw material biomass is pulverized, that is, in powder form. Secondly, add some water to the dry material or dry the wet material until its moisture content is around 15%(also depending on different raw materials). Thirdly, feed the material into the pellet making machine for pelletizing. Then fill the pellets into certain bags for storage.
Some notes about biomass pellet making machine
When using the
biomass pellet making machine
, pay attention to the following tips:
For different raw materials, the size of die hole is slightly different so as to get best result. So remember to tell the seller what is your raw material.
Best moisture content of raw material is 15%. Too dry or too wet will not form pellets or even block the pellet forming holes.
The temperature of pellets is about 90-95℃ when just get out the pellet machine, so you must cool the pellets with a cooler by air before touching it by hand.
We you just received the biomass pellet making machine, remember to lubricate all parts and adjust the position of pellet machine roller.
Making pellets by biomass pellet making machine is in fact not a hard work. As long as all necessary equipments and raw materials are prepared, it is just very easy to make your own biomass pellets.
Your privacy is safe with us. We hate spam as much as you do.
Related Equipment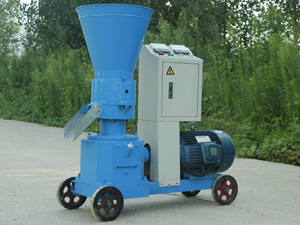 biomass pellet making machine
How do you deal with your biomass wastes? The best...
Products list
Latest News
Recommend Products