diesel wood pellet mill
Diesel wood pellet mill refers to the machine for making wood pellets with diesel oil driven. Different from the electric driven one, this pellet mill is more convenient and portable for families, especially those who live in the farm to use. There is no need to wire, so that the limitation to working place is reduced. That is also the most significant feature of this wood pellet press.
Classifications
Diesel wood pellet mill developed by our company can be classified to two types according to working parts. One is roller-rotating pellet mill and the other is die- rotating pellet mill.
When r
oller-rotating pellet mills
works, its rollers will turn while the die keeps stationary. This kind of pellet mill has a larger yield than common diesel wood pellet mills. If you want to make pellets for sale, this machine can provide as many pellets as you need.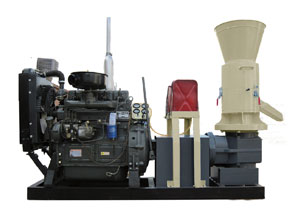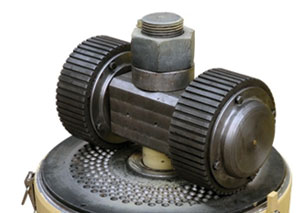 Die-rotating pellet mill
is contrast to the former one. This pellet mill works by die rotating to produce a great force, and then this force will compress raw materials into the die holes and form columned granules. This pellet mill is especially suitable for own use. If you want to make wood pellets for home heating or cooking, it can meet your need totally.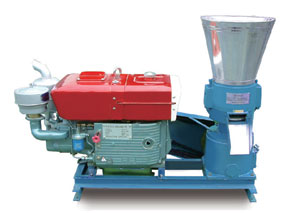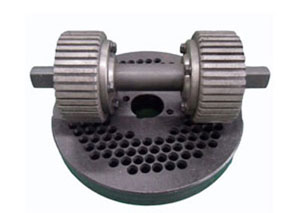 Features
Reasonable structure, less occupied area, and low noise;
High efficiency, high productivity and low consumption;
Easy operation and maintenance, high safety;
High quality pellets with slippery surface, which are easy for burning and storage;
Available in different workplaces and for different raw material.
Technical Parameters
Driven
Model
Power
Capacity
Weight(NW/GW)
Packing Size
Diesel

ZLSP200A

15 HP

80-120kg/h
320/350kg
1460*950*1100mm
170-270lbs/h
705/772lbs
58*37*55inch

ZLSP300A

36 HP

250-350kg/h
850/890kg
1100*700*2480mm
550-770lbs/h
1874/1962lbs
43*28*98 inch

ZLSP400A

55 HP

350-450 kg/h
1010/1050kg
1300*800*2600mm
770-990 lbs/h
2227/2315lbs
51*31*102 inch
Of course, we have other models to be chosen for customers in different capacities such as 260A, 230A and 150A. You can
click here
see more and choose according to your practical needs.
By Shirley Wang
Your privacy is safe with us. We hate spam as much as you do.
Related Equipment
Products list
Latest News
Recommend Products