alfalfa pelletizer
Alfalfa, as it is known, is the most widespread pasture in the world. The most significant features of alfalfa is the strong vitality and fast growth speed. It is so exuberant and productive that it can grow more than 20 years and be harvested for 1-13 times in each growing season. These characters make it not only most popular to be feed, but also make it a good resource for biomass pellets production.
From Biomass to Biofuel
| | |
| --- | --- |
| | |
| Alfalfa | Alfalfa Pellets |
As biomass pellets production demands that the raw material should be renewable and green, alfalfa is efficient and sufficient to make a contribution to biomass pellets production. With an alfalfa pellets mill, you can easily and fully make use of alfalfa for pelletizing by yourself.
GEMCO has developed various pellet mills according to different application and raw materials. Alfalfa pellet mill is one most popular type among our products. This kind of machine is designed on the basis of alfalfa's characters and customers' needs. It is portable and flexible for individuals to operate. You can make pellets with it at home, or move this machine outdoors.
Small Pelletizer with Diesel Engine Design for Making Alfalfa Pellets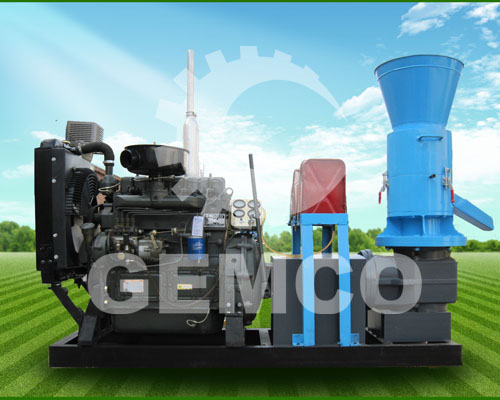 Technical Parameters
Model
Power
Capacity
Weight(NW/GW)
Packing Size
ZLSP230A
22 HP
120-200kg/h
280/310 kg
1560*850*1000mm
245-440lbs/h
620/680 lbs
61*33*39inch
ZLSP260A
35 HP
160-250kg/h
330/360 kg
1200*500*1070mm
350-550 lbs/h
730/790 lbs
47*22*41inch
ZLSP300A
55 HP
250-400kg/h
410/450 kg
1220*600*1000mm
550-880 lbs/h
900/990 lbs
48*23*39inch
How to make you own alfalfa pellets use a small pelletizer?
When you are going to pelletize, the first step is drying alfalfa until the moisture is about 15%. The wetter or dryer material will affect the final quality of biomass pellets. You can resort to a drier, so that you can get the ideal moisture quickly. Or you can dry it naturally.
The second step you have to do is grinding alfalfa. The original form of alfalfa is not appropriate for the alfalfa pellet mill to process directly. When you grind it to small powders, the pelletizing rate and pellets quality will be better.
Then the most important step is coming. Put the alfalfa to the feeder of alfalfa pellet mill, they will be compressed to columned holes on the die and discharged from the machine. Thus the whole procedure is finished. But take care of the high temperature of biomass pellets. They will burn you if any direct touch happens. Wait a minute, and then you can check your own alfalfa pellets.
Alfalfa pellets made by our machine is with slippery surface, good intensity, and dense structure. It is feasible to store them or transport them under strict sealing. Not only available for alfalfa pelletizing, our machine can also process many other materials. If you are interested in our alfalfa pellet mills, please contact us.
By Shirley Wang
Your privacy is safe with us. We hate spam as much as you do.
Related Equipment
Products list
Latest News
Recommend Products