article of pellet power published in magazine
In September 2011,we publish an article on the magazine-BIOFUELS INTERNATIONAL.It is about the biofuels pellets.The one-page feature included details on the significance of GEMCO - in supplying a range of products internationally, from
small pellet mills
to multi-ton per hour pellet plants. From the article: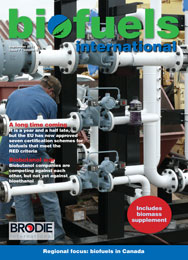 The biomass pellet industry of China and the rest of the developing world are beholden to the example set by western regions, particularly Europe.It is here, in the wake of the late 1970s oil crisis, that the movement towards biomass energy began in earnest.The first large-scale biomass power generation project was launched in Sweden in the early 1980s. Its success then spawned similar projects throughout Europe, North ,America and, eventually,to the developing world.
Gemco's smaller mills employ specially crafted gears to transfer force perpendicularly from the motor, the ratio of which is considered proprietary information. The large pellet mills of AKG are equipped with devices to sequester VOCs emitted during the raw material drying process. Similar units are emplaced for dust collection, as are reinforced seals, to ensure worker safety. With the international market in mind, AGICO's machinery has obtained CE and ISO certification.
The full article and others related to interesting biomass topics can be found here - Biofuels International .Also you can download this.

About BIOFUELS INTERNATIONAL
BIOFUELS INTERNATIONAL
magazine is brought out 10 times a year and is the leading global publication in the market. Designed to appeal to those who wish to learn and be kept abreast of this increasingly important area, the magazine encompasses, biodiesel, bioethanol, and biomass.
Your privacy is safe with us. We hate spam as much as you do.
Products list
Latest News
Recommend Products