GEMCO Large Capacity Flat Die Pellet Press Invented
According to the developing trend of large capacity pellet presses, the large capacity flat die pellet press is in great demand. As a result, GEMCO R&D team has developed a new model ZLSP550B R-Type (rotating roller) pellet press with a year's hard work.
This ZLSP550B R-type flat die pellet press can produce 500-800kg/h wood pellets or 800-1000kg/h feed pellets (with different pellet die and compression ratio).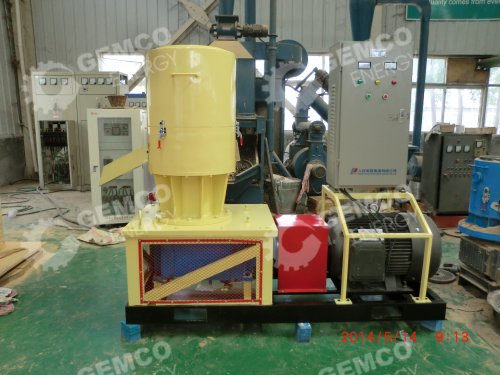 Features of this large capacity flat die pellet press
The ZLSP550B R-type pellet press is GEMCO invented that has proprietary intellectual property rights.
It has brief structure. It is easy to operate, stable to operate and can work continuously.
The gearbox of pellet press adopts high precision gear transmission. The hydraulic oil system can automatically add oil to the gearbox and main shaft bearing circularly. When the machine is operating, the oil transfer pump can work continuously. So the pellet press can work under the circulation of engine oil to lengthen the service life of main shaft and transmission gear.
The roller and die of pellet press are made from heat treatment alloy steel, so that their hardness can be higher than HRC50, which ensures the continuous work of machine and prolongs its working life.
This ZLSP550B R-type flat die pellet press is driven by a 55kw 3phase electric motor. If you want to make 500-800kg/h wood pellets, this large rotating roller pellet press is your best choice.
Your privacy is safe with us. We hate spam as much as you do.
Products list
Latest News
Recommend Products